The Grove Resort and Spa | Vacation Rentals
Walt Disney World Short Term Vacation Rental - Guarantee ROI - 10%
Looking for a great Short Term Rental Investment opportunity? Well here is! Guarantee Rate on Investment of 10%!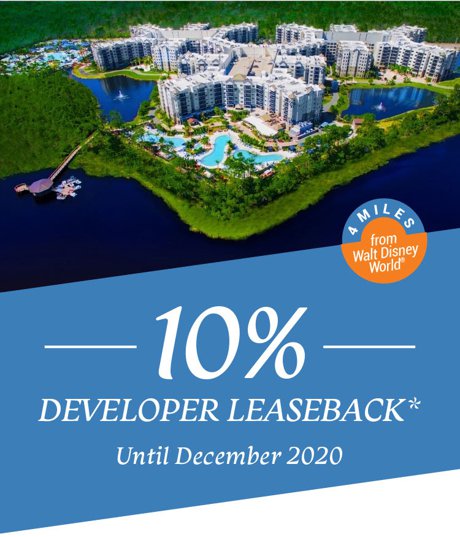 The Grove Resort and Spa is offering a great Short Term Vacation Real Estate Investment near Walt Disney World. This new community is located only 5 minutes from Walt Disney World Theme parks. The Grove Resort and Spa is offering a guarantee ROI of 10% through the end of December 31, 2020.
These properties are brand new construction, come fully furnished and offer families a great way to integrate a home purchase in a great resort market next to Walt Disney World Resort.
The vacation condos offer a great way for families to purchase and use these homes as a great get away in a fantastic Vacation market. The condos offer an opportunity for a family to offset their carrying costs and generate, produce vacation rental income by renting the homes out to visitors coming down to visit Walt Disney World, Universal Studios and Sea World attractions.
These condos beat staying at a hotel and being confined to one room with two beds. The Grove Resort and Spa offers the opportunity for families to purchase various 2 bedroom, 2 bath condos and 3 bedroom, 2 bath or a 3 bedroom, 3 bath homes.
Great Short Term Rental Community with Fabulous ROI
Here is a breakdown of the condos by name and sq footage:
Call the Petridis Home Team if you want to see any of these homes, direct at 407-756-3303.